Taking a bath has been a longstanding way to detox, de-stress, and unwind. A bath can be a meditative ritual of healing and self-care. The key to transforming a regular bath into self-devotion ritual is to set an intention prior to getting in! I love how the simple "spells" or affirmations that are hidden underneath each Bath Spell lid does just that for you.
Not only do our bath spells ignite your sense of smell to help channel your intention but you get to enjoy the many benefits, including improved quality of sleep, skincare, and overall well-being. Each Bath Spell in the Rise Boutique is uniquely crafted from hand selected herbs, flowers, and essential oils for your specific intention.
What will be your first bath spell intention?
Beauty Bath Spell
The beauty bath spell is the definition of luxury. Heaps of whole rose, jasmine and gomphrena blossoms, detoxifying pink clay and Himalayan salt make this gorgeous soak a flower lovers' dream. The glorious moisturizing oils and butters surrounding each grain of salt will blend with your bath water providing rich moisture without an oily feel. The aphrodisiac blend of Rose, Geranium, Ylang-Ylang, Nutmeg, Vanilla and Gardenia oils. Each jar provides 6-10 truly decadent baths.
Warmth Bath Spell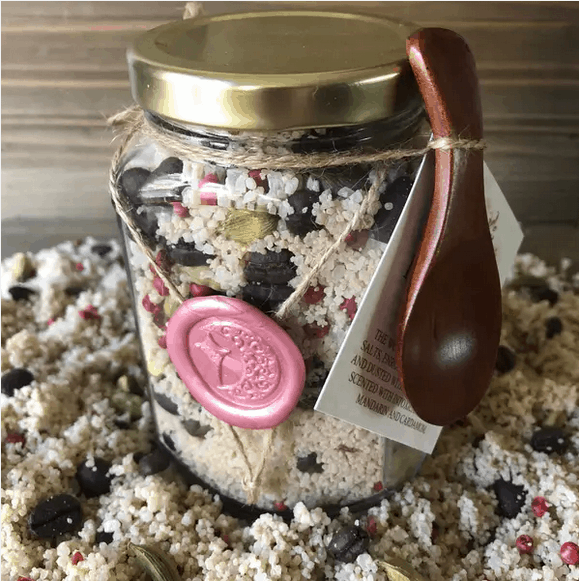 May warmth envelop you in a wave of delicious comfort. This Bath Spell is sensuous, rustic and spicy. The perfect blend of Kaolin Clay, Dead Sea Salt and Epsom Salt will relieve sore muscles and detoxify your body while Cocoa Butter cares for your skin. This delicious blend of Coffee, Cardamom, Cedarwood, Mandarin, Vetiver and Vanilla is both delectable and woodsy. It will awaken your sensual nature while leaving you feeling cozy and relaxed. Each jar provides 6-10 truly decadent baths.
Revival Bath Spell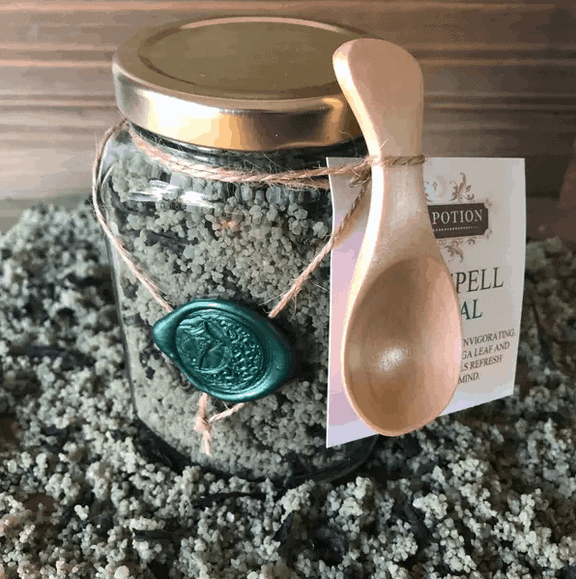 Sink into these jade-green waters surrounded by detoxifying clays and nutritious moringa and feel your vitality returning. As you soak, watch the green tea leaves unfurl, releasing antioxidants. Each grain of mineral-rich salt is enrobed with "Body Potion" hydrophilic oils. The Avocado, Grapeseed Oil and Cocoa Butter blend with your bath water to infuse your entire body with rich moisture. We created this Bath Spell to ease our migraine symptoms. Mint, Juniper, Lavender, Cedar, Ginger. Each jar provides 6-10 truly decadent baths.
Peace Bath Spell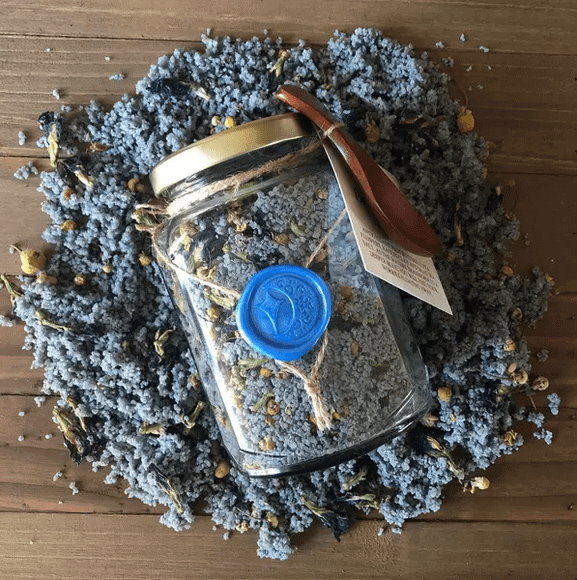 This tranquil, creamy blue bath spell is filled to the brim with the remarkable, antioxidant-rich butterfly pea flower. This bath is truly magical as the longer you soak, the deeper blue your water will become. As the water slowly transforms you will feel your stress transform into pure bliss, floating in detoxifying dead sea salt and moisturizing Avocado and Cocoa butter. Every essential oil in this spell was chosen for its ability to help your mind find peace. Lavender, Frankincense, Bergamot.
Cheer Bath Spell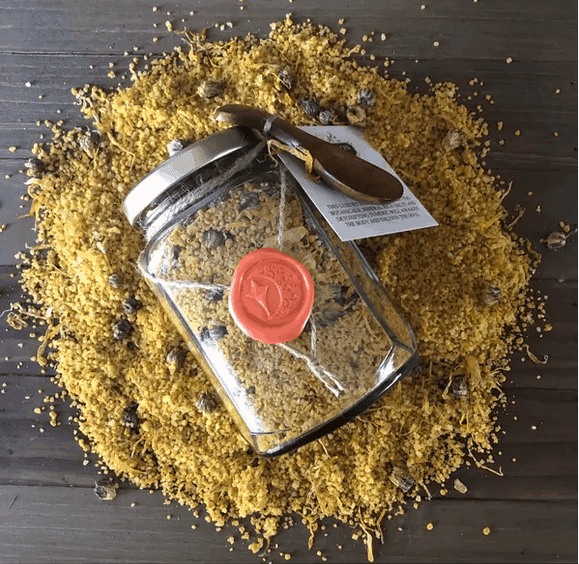 The Cheer bath spell manifests pure joy. As organic turmeric turns your water to liquid gold and chrysanthemum blossoms bloom, you will feel sunshine returning to your life. Kaolin clay and dead sea salt are detoxifying to help your body feel as renewed as your heart. This spirited brew combines ingredients to reduce inflammation, increase circulation and cleanse and moisturize your skin.
You can view all of our wonderful bath spells and more self-devotion tools in the Rise Boutique!